Cool Washer Stuff on Amazon:
scroll >>> for more items
Post# 241874 , Reply# 1 &nbsp 10/11/2007 at 20:59

(4,244 days old)

by appnut (TX) &nbsp
&nbsp


Post# 241885 , Reply# 2 &nbsp 10/11/2007 at 21:20

(4,244 days old)

by dadoes (TX, U.S. of A.) &nbsp
&nbsp



FilterFlo58, which model specifically do you have? GWL11 or GWL15? I believe the procedure is the same for both. Follow this exactly step by step. It should be outlined in your instruction book, described as a special cycle to clean the machine. You CAN wash clothes with it.

1. Turn on the Power.

2. Press and HOLD Favorite until it beeps a 2nd time and the cycle light flashes.

3. Select Perm Press.

4. Select HOT wash.

5. Press Favorite again to save the customization.

You can now run a hot wash whenever desired by selecting the saved Favorite cycle. (You don't have to re-program the Cleaning Cycle each time, unless you happen to change the Favorite programming with a different saved cycle at some point in time.) You should get a full-fill hot deep wash, without the EcoActive phase. You may or may not be able to save a specific water level and/or spin speed with the Cleaning Cycle. Try it. If not, then you can adjust the options each time, after selecting Favorite but before starting the machine. Perm Press normally does not allow High (1000 RPM) spin speed, but it should when used via this procedure as the special Cleaning Cycle.

If you want to run the Normal or Heavy Duty wash action, use the Cleaning Cycle to fill the machine to the desired water level, then turn off the power, turn it back on and select Normal or Heavy Duty with the desired water level. It should start agitating immediately since it will already be filled to that level.
---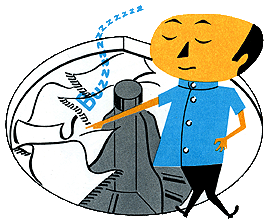 Comes to the Rescue!

The Discuss-o-Mat has stopped, buzzer is sounding!!!
If you would like to reply to this thread please log-in...