Thread Number: 14543
JamiePulsator -- Some SmartLoad Dryer Details
[Down to Last]
Cool Washer Stuff on Amazon:
scroll >>> for more items
Post# 247414 &nbsp 11/9/2007 at 22:36

(4,332 days old)

by dadoes (TX, U.S. of A.) &nbsp
&nbsp



Denim = 149°F
Regular = 149°F
Perm Press = 140°F
Delicate = 127°F

Cool-down to 95°F on auto-dry cycles. Variable 5 to 10 mins on timed (depending on selected/elapsed dry time I assume).

Dual heating elements, 3.6KW and 1.4KW.

Elements are used as follows and don't activate until the drum gets up to full speed. The larger element is powered off about 30 seconds before the motor pauses for reversing to prevent excess heat from entering the drum.

Denim and Regular -- both in forward direction, 1.4KW during reverse.
Perm Press and Delicate -- 3.6KW in forward direction, 1.4KW during reverse.

Gas has a 30-second burner ignition delay, then runs the burner for 3.5 mins maximum duty cycle during forward tumble on Denim & Regular, 2.5 mins duty cycle on Perm Press & Delicate. NO GAS HEAT during reverse tumble on any cycle.

A complex algorithm is involved in dryness sensing, which includes consideration for clothes brushing against the sensor bars more often with large loads and less often for small loads.
Post# 247419 , Reply# 1 &nbsp 11/9/2007 at 22:50

(4,332 days old)

by pulsator (Saint Joseph, MI) &nbsp
&nbsp


Post# 247420 , Reply# 2 &nbsp 11/9/2007 at 22:55

(4,332 days old)

by appnut (TX) &nbsp
&nbsp


Post# 247424 , Reply# 3 &nbsp 11/10/2007 at 00:09

(4,332 days old)

by dadoes (TX, U.S. of A.) &nbsp
&nbsp



Oh sure, there's a typical thermistor for temp control. Three overheat thermostats are used on electric heat. One auto-reset for high airflow (forward tumble with one or both elements), one auto-reset for low airflow (reverse tumble with low-wattage element), and one manual reset. Gas uses one auto-reset and one manual reset.

I imagine the dryness algorithms are different for Denim and Regular. I always use Denim for jeans and they come out fine on "normal" dryness level. I've never thought (ooops!) to try jeans on Regular to see if there's a difference in the results.

Wrinkle guard runs 30 seconds every 5 mins (reverses direction each time) for 255 cycles (approx 23 hrs).

Dimples at 2° spacing are pressed into the air-outlet side of the drum sidewall to sense rotational speed via an optical tachometer. There is a 15° gap to provide a "home" reference to position for actuating the door grabber. Full tumble speed is 47 RPM. 20 RPM is used for index sensing if the position isn't known (which it may be verified at the higher speed if the drum was already running in the reverse position when an open sequence triggered). Slow to 5 RPM for opening. The door grabber will actuate if the speed has reduced to 18 RPM or less by the time the drum has reached proper position, if not it will run another revolution at 5 RPM.
---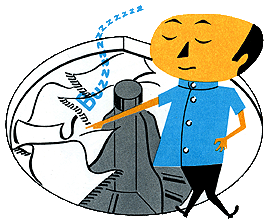 Comes to the Rescue!

The Discuss-o-Mat has stopped, buzzer is sounding!!!
If you would like to reply to this thread please log-in...