Thread Number: 35371
Ordering the new candy aquamatic :)
[Down to Last]
Cool Washer Stuff on Amazon:
scroll >>> for more items
Post# 528439 , Reply# 6 &nbsp 7/3/2011 at 12:01

(4,535 days old)

by aquarius8000 () &nbsp
&nbsp

Aqua 100f


Post# 528462 , Reply# 17 &nbsp 7/3/2011 at 13:23

(4,535 days old)

by aegokocarat (United Kingdom) &nbsp
&nbsp

true true :)


Post# 528507 , Reply# 22 &nbsp 7/3/2011 at 18:14

(4,535 days old)

by Haxisfan (Europe - UK / Italy) &nbsp
&nbsp
Sweet as 'Candy'?



Hi guys, just quickly wanted to throw some light on the name 'Candy'... it isn't an Italian word, it is the word for 'sweet' as you know as English speaker. As it's written in the history of 'Candy' in their online archives, Mr. Fumagalli, the founder, had been to the States previous to the birth of the company 'Candy'... further to his humming the words... Candy... oh Candy... and so forth... from a song he heard while staying in North America, they decided to give the company such a memorable name.

As for the Candy Aquamatic... isn't it a tad too small for a household? Even if there's only one person living in it, there are still some biggish items to wash... like curtains or sheets... anyway, I never owned one and I don't know how much it can really swallow. I like the look of it though... especially the latest, I think it's really sweet as candy ;-)
---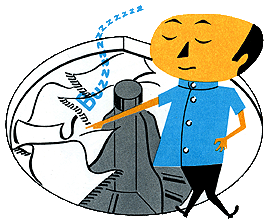 Comes to the Rescue!

The Discuss-o-Mat has stopped, buzzer is sounding!!!
If you would like to reply to this thread please log-in...