Cool Washer Stuff on Amazon:
scroll >>> for more items
Post# 551959 , Reply# 1 &nbsp 10/26/2011 at 06:25

(4,428 days old)

by Pulsator (Saint Joseph, MI) &nbsp
&nbsp



My dad bought this exact same washer from Lowes last December and it would usually take 2-3 hours to do a load vs the estimated 59 minutes. We called Whirlpool, they sent out a repair guy who had never seen these new machines and eventually we returned it to Lowes. Whirlpool contacted us a couple days before we returned it and told us that there had been a problem with the entire first batch of computer boards in these machines that they were being WAY too sensitive when it comes to balancing. Upon returning that washer, we ordered a new of the same one and have since had no issues. Perhaps your washer came from the batch with bad computer boards? Whirlpool is or at least was offering a free replacement of the boards. Hope this helps!
Post# 551998 , Reply# 2 &nbsp 10/26/2011 at 10:12

(4,428 days old)

by combo52 (50 Year Repair Tech Beltsville,Md) &nbsp
&nbsp
NEW WP FL WASHER


Post# 552074 , Reply# 3 &nbsp 10/26/2011 at 16:13

(4,427 days old)

by pierreandreply4 (St-Bruno de montarville (province of quebec) canada) &nbsp
&nbsp



I think your better of calling your buyer and have them replace directly the problems today is with newer appliances repair tech push the consumer to replace there or you could always ask for a repair but show them your warrenty paper and original purchuse bill and say that under the legal warranty that your in right to a repair if not then ask the store where you bought your washer dryer set to replace your washer by a similar model or a model of the recent year with the same option you have now. But my best advice if you do replace replace it with a top load washer they are trouble free.
Post# 552323 , Reply# 10 &nbsp 10/27/2011 at 19:39

(4,426 days old)

by laundromat (Hilo, Hawaii) &nbsp
&nbsp



Just FYI, Some front loading washer owners have a tendency to , instead of loading each garment one at a time, they bunch everything up. usually by placing the loose items into a towel or sheet or bedspread and just throw the entire bundle in. this can cause some serious off balance issues and make the washer(s) take longer (sometimes never) to go into the spin. This also happens with loads that are too small or bulky.All of the current front loaders I've had did and still do this.My Miele will give me a middle finger (F52) when the tub can't reach the max 1400 rpms in the final trial.It buzzes loud and shows the "finger" to me. I then pull the plug, redistribute the load and try again. This usually works.
Post# 552359 , Reply# 11 &nbsp 10/28/2011 at 01:18

(4,426 days old)

by arbilab (Ft Worth TX (Ridglea)) &nbsp
&nbsp



I have a BOL Frigiwhite FL from 1997. It strongly resents a load of one heavy item but almost always works otherwise. Even pillows and blankets.

The balance sense works one of two ways. All these electronic motor controllers have tachometers. In the runup to spin (distribution) if the tach sees more variation than it likes, it shuts off and tries again. The other method is sensing motor current, you get exactly the same curve as tach.

The bug comes in where the computer decides it is 'out of balance'. It's not that easy a thing to decide. Mine bails out of spin at times when the balance is not that bad. And at worst, spins anyway and bangs the tub into the cabinet. Fortunately I'm always standing there and I stop it. But I'm an uber-user of FLs, watching them just short of 60 years.
---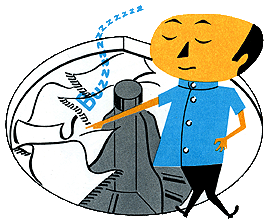 Comes to the Rescue!

The Discuss-o-Mat has stopped, buzzer is sounding!!!
If you would like to reply to this thread please log-in...