Cool Washer Stuff on Amazon:
scroll >>> for more items
Post# 556201 &nbsp 11/12/2011 at 23:24

(4,410 days old)

by Launderess (Quiet Please, There´s a Lady on Stage) &nbsp
&nbsp



Attended a family event on Saturday held at a local church's hall. As usual at once offered my services when came time for washing up, so off to the kichen I went.

Well you could have knocked me over with a feather. In this rather "old" and really in want of a redo kitchen (the church is >100, have no idea about the hall), there were the following:

Two vintage Sunbeam chrome toasters (complete with original cloth cords, one brown).

Two older microwaves, one was Samsung, but didn't have time to check it out.

A *huge* vulcan gas range

Then the thing that got me was this rather odd contraption next to the double sinks; a Vulcan "Auto-San" dishwasher. Would have loved to fire the old girl up for washing dishes but no one seemed to know how it worked so got busy with Palmolive and a sponge.

The unit isn't like the ones sold today. I has two demi-round "lids" one raises and lowers. Inside was a rack and one could see several rods with openings that one assumes were where the jets of water came out. Think one side accepted soiled dishes whilst someone else would take rack out when the cycle was over on the other side. Well had to run and get my camera for for this one! Even my cousins thought the thing was cool!

Took some snaps and will post later when I've sorted them out from those of the event.


Post# 556267 , Reply# 1 &nbsp 11/13/2011 at 09:54

(4,410 days old)

by Tomturbomatic (Beltsville, MD) &nbsp
&nbsp

What you found was a dishwasher of the "turtleback" design. In a Hobart there was a revolving wash arm from the recirculating pump with a fixed overhead pipe with fan jets for washing. A separate revolving rinse arm under the rack used fresh water from the hot water booster at 180F for the rinse. Usually, once the cycle was started, the doors were locked in place so that kitchens could not interrupt the cycle and violate health codes. Under the counter was the tank, motor and heater for the wash water. The rinse was about 10-12 seconds since the rinse water fell into the wash tank, helping keep it hot, but also diluting the detergent concentration in the wash tank. Excess water drained off through a overflow pipe. The fixed cycle was a little over a minute and any seconds that were added to the rinse time were subtracted from the wash time. As with all dishwashers that used a fresh water final rinse, the no-spot rinse additive had to feed into the rinse line so that tableware would flash dry when the racks came out of the other side. Did this kitchen have one of thse overhead spray hoses to pre-rinse the trays of dishes before they went into the machine or was that more of a hand job?

The name "AutoSan" was used by Colt--no relation to the studios. Colt did not use revolving wash sprays in the machines I saw, but that was long ago. It will be interesting to see if the turtleback has them. That would mean that Vulcan had a rebadging agreement with them, although why it would be important to have the same name on different pieces of comercial kitchen equipment is beyond me.



Post# 556312 , Reply# 2 &nbsp 11/13/2011 at 13:38

(4,409 days old)

by Launderess (Quiet Please, There´s a Lady on Stage) &nbsp
&nbsp
"Turtle Back"



Who knew!

*LOL*

No, no pre-rinsing spray arm at the sink, it was all by hand! Trust me kept applying hand cream the entire night after washing all those dishes, and along the drive home. Usually always bring a set of washing up gloves to family events, but one figured it was to be catered at a hall... *LOL* Stupid me, won't make that mistake again!

There was some type of faucet connection on the wall behind the DW unit, but one assumes perhaps that fed water to the machine. Do know that whilst washing dishes (again by hand, *LOL* one could hear gurgling every now and then coming from under the unit.

Judging by the rust and looks of the water left in the unit (along with the cobwebs near the controls under the cabinet doors), don't think the dw was used in awhile. Probably only when the church hall has events or perhaps operates a soup kitchen.

One would imagine dishes would pretty much have to be well scrubbed before going into that machine, I mean with such short cycles the name "Auto-San" tells the story.
---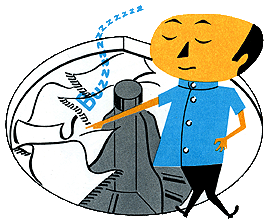 Comes to the Rescue!

The Discuss-o-Mat has stopped, buzzer is sounding!!!
If you would like to reply to this thread please log-in...