Cool Washer Stuff on Amazon:
scroll >>> for more items
Post# 48179 , Reply# 1 &nbsp 10/30/2004 at 08:45

(6,727 days old)

by Jetcone (Schenectady-Home of Calrods,Monitor Tops,Toroid Transformers) &nbsp
&nbsp
That someone was me PCounterman



I said that about the Staber. I bought number 101 off the assembly line, I also bought one of their first coin op machines off the assembly line in 1994. At first I was very impressed with the home model I bought that is why I tried the coin op with my tenants who by the way are now very happy with the Speed Queen FL I installed after the Staber left.

Poor execution on a good idea and very poor forsight on Bill Staber's part.
Excellent customer support of their machines.
Bill Staber sent me practically a whole new machine in parts at no cost to me. But I spent quite a few weekends rebuilding the machines and my tenants had piles of laundry because of that. I rebuild washers all the time I have for more than 25 years now. But to ship a machine and expect a "run of the mill customer" to change 4 shock absorbers is NON-Sense on Staber's part!
My machines were LOUD with lots of Cabinet rattling. Too loud for a bathroom setting, the basement is was the only place to have them.
The Staber mechanism depends on exact alignment at the end of the cycle. This was never exact on my machines. If the tub does not stop at the top and you are forced to rotate it up you will get your fingers crunched between the drum and the opening! This happend many times PERIOD!!! Maybe they fixed that today.

The Stabers used top quality parts on the mechanical side but had very faulty electronics on the running side.
They made big blunders ,in my opinion, on things that should have been obvious to people who spent many years rebuilding other manufacturers washing machines.
Point 1) Anyone who has spent anytime around a FL KNOWS that the shock absorbers have to be protected from water, detergent and dirt intrusion. Theirs weren't.
Point 2) Water shields at the tub opening have to be secured mechanically not snapped into place on the plastic tops. Their shields fell off down the mechanism within the first two months. Another major dissassembly for the run of the mill customer.
Point 3) Make damn sure your electronics can handle their environment BEFORE you ship any product. Having to change 4 boards in one year is nonsense!

Point 4) When you have a new product with no service plan, no dealer net work and you have an enthusiastic customer (me) who offers to start a network in New England never never give an off handed no to that offer. And on the second attempt never dump that first customer off on some snied lacky who went to business school for "marketing" and never put his hand on a washing machine to save his life! Your machines weren't that good at that time and against all good business sense you played it way too close to your chest Bill Staber. And now low and behold they are trying to build a dealer network, DUH!
But I saw with some major redesign their washer could be a real winner. Their machine does what their patent claims. It is a new washing action.

Now today I don't know, I have had no contact with them and have not seen their product in 10 years. My machines are now in the collection of another club member. I just saw them last week and he was able to change a tub bearing on one in 20 minutes. That is a real feat for a FL machine.
And there is another club member in Ohio who has owned two later machines and loves them. So maybe they learned on people like me. I have to assume they must have if they are still trying to sell the same machine.
Hawaii is a long way from Ohio when you will need parts and you will need parts.
I will say this Staber is not a junk machine but it did need alot more development 10 years ago. Today I wouldn't know and if I ever see one around here again in a junk pile I would haul it home and tear it down to see what they learned. They have tried to sell here in New England. I have seen them at the home shows here but even the salesmen there were lukewarm about the product. The salesman's wife came up when she saw me looking over the floor model and remarked how she kept hitting her hand on the narrow opening when trying to pull out the full sized comforter stuffed inside the drum. I replied I knew from bruised knuckles!


Post# 48309 , Reply# 2 &nbsp 12/31/2069 at 18:00

(19,449 days old)

by gansky1 (Omaha, The Home of the TV Dinner!) &nbsp
&nbsp



I loved John Lefever's story of when he and Jeff went to meet with the owners & engineers at Staber...

They made a few recomendations beyond the things you've mentioned and having only seen the designs and prototypes for the washer at the time, their first suggestion was to make the capacity 50% larger just to give them a shred of a chance in the market where 3+ cu. ft. washers (mostly toploaders at the time) were common. Other suggestions were the controls and various other design flaws Jetcone mentioned previously.

I saw one of these run at Bob Salem's recently and was quite impressed with the washing ability of the machine - the small amount of water used seemed to be quite adequate and the sounds of the churning, surging water in the octagonal shaped drum to the rounded outer tub was amazing. This was the loudest washer I've ever heard spinning - ever. Completely unacceptable in today's market. It would be interesting to see what improvements have been made since it's introduction.
---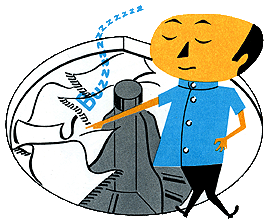 Comes to the Rescue!

The Discuss-o-Mat has stopped, buzzer is sounding!!!
If you would like to reply to this thread please log-in...