Unless mice have had a field day in the insulation, or spilt grease has saturated it over the years, there is no need to replace or add insulation.
These stoves are safe to use, but as with any type of plumbing, you need to check all of the connections for leaks. Soapy water and a brush is good for that, the soap will bubble if gas is leaking. Then check all burners with the valves turned off to see if a valve is leaking - usually smell will work but you can hire an appliance man or plumber to come and check with their natural gas sniffer machine. Oh, and don't let an appliance repairman tell you that old stoves are inherently unsafe. Many younger repairmen know nothing about the stoves and assume old = bad and dangerous. Some just don't want to bother with them and will tell you that old stoves are dangerous as well. A properly checked over and installed vintage stove is safe.
A safety system can be installed for the ovens if you wish - this would cut off the gas flow should the oven burner and pilot go out for some reason.
The burner valves are basically a tapered cone of metal in a matched housing with little holes for the gas to flow through. They come apart easily (unless stuck) and can be soaked in solvent to remove the old grease. You can buy the special stove valve grease online (a small can is $25 but will last your lifetime - a little goes a long way and I could rebuild 100 stoves and have plenty left). You might talk an appliance repairmen out of a little or find it locally through an appliance repair shop. Do not use abrasives or steel wool on the burner valves: scratches = leaks.
The side panel is an easy fix, the last time I checked IPE charged about $60-70 for a side panel. If it doesn't exactly match it won't be very noticeable.
For t-stat rebuilding I would call Repco - they do the t-stat rebuilding for many of the vintage stove restoration outfits. They normally don't deal directly with the public but might if you can't get your plumber or appliance man to send the parts - the plumber/repairman would probably charge a small service charge to send the t-stat for you but it would probably be cheaper than what the vintage stove repair shops mark up the valves.
Here is a picture of a typical stove valve. Some have a knurled knob to hold the tapered valve body inside the housing instead of the two screws this one has.
CLICK HERE TO GO TO 58limited's LINK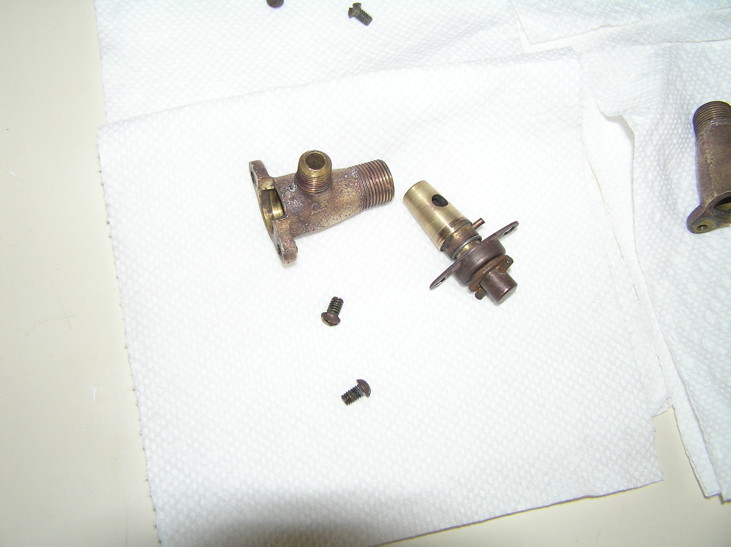 This post was last edited 03/02/2014 at 19:44