Thread Number: 74700 / Tag: Modern Automatic Washers
It`s been about time for New Shocks
[Down to Last]
Cool Washer Stuff on Amazon:
scroll >>> for more items
Post# 985115 &nbsp 3/3/2018 at 14:35

(1,623 days old)

by mrboilwash (Munich,Germany) &nbsp
&nbsp



My 15 years old Miele lately has been acting up more and more when going into distribution spin. Sometimes the whole tub assembly would even bang violently against the cabinet before the out of balance sensor reacted. Judging from the scratch marks on the door glass it`s a miracle the glass did not break.
So I couldn`t ignore the problem any longer. I needed new shock absorbers. Badly.

Doing some reasearch I found out Miele original absorbers are made by Suspa and so are Miele compatible Suspa absorbers for a fraction of the price. So I favoured the cheap alternative (also made by Suspa) with the same specs for a mere € 16,00 shipping included. I`m a bit disappointed at the quality of the original absorbers as they were clearly not made to the semi commercial standards like the rest of the machine.
Must be Miele`s way of planned obsolescence. Lol.

Despite it was a rather simple repair, absolutely doable for anyone who can hold a screwdriver and a ratchet it took me at least two hours. Changing the shocks wasn`t the problem but figuring out how to disassemble the front of the chassis and getting that wire ring around the door boot reattached kept me busy so much longer than I thought it would.
Can`t wait to watch the next load of sheets !
Post# 985117 , Reply# 1 &nbsp 3/3/2018 at 14:37

(1,623 days old)

by mrboilwash (Munich,Germany) &nbsp
&nbsp



There was almost zero resistance left in the old ones.
Talk about self destruction.
Post# 985128 , Reply# 3 &nbsp 3/3/2018 at 15:56

(1,623 days old)

by Launderess (Quiet Please, There´s a Lady on Stage) &nbsp
&nbsp
Been There, & Done That



Well actually called out Miele to make the swap out, but never the less....

About 15 or 20 years is a good run for shocks IMHO. Long as one isn't abusing the washer by overloading and or doing many unbalanced loads.

On my older Miele changing the shocks is a bit of a tight squeeze, at least for the left side. Am referring to the older units with only front access, and can see why now newer Miele washers have side and IIRC back removable panels. This should make the swap out a treat.

Went with Miele shocks (sent from Europe, far less dear than getting from MieleUSA). Miele techs here will not install anything else but manufactured specified *new* parts, and or using something else voids warranty on parts/labor IIRC.
Post# 985132 , Reply# 4 &nbsp 3/3/2018 at 16:37

(1,623 days old)

by mrboilwash (Munich,Germany) &nbsp
&nbsp



Admittedly I was guilty of overloading but have changed my laundry habits a few years ago. I realized washing smaller loads means less stress for the machine and fabrics, gives overall better results and it`s probably cheaper in the long run.

My model doesn`t have the hinged front, but once the front is removed the shocks are very easily accessible, even on the left side where the pump is in the way.
Post# 985134 , Reply# 5 &nbsp 3/3/2018 at 16:45

(1,623 days old)

by Stricklybojack (South Hams Devon UK) &nbsp
&nbsp


Post# 985135 , Reply# 6 &nbsp 3/3/2018 at 16:45

(1,623 days old)

by Launderess (Quiet Please, There´s a Lady on Stage) &nbsp
&nbsp
My w1070 Has A Sweet Spot



For normal/cottons/linens loads Big Bertha likes being loaded to capacity. Far less issues with distribution, banging, unbalanced loads, etc...

However as we all know loading via volume versus weight are two different things.

Have long ceased doing heavy things like blankets in the Miele. It is either in Lavamat, or now Maytag wringer they go.

IIRC overloading is a common user fault with Miele washers, at least perhaps in USA. With such "small" capacities compared to larger machines, many simply want to get as much done in one load as possible.

Have seen no end of relatively new Miele washers being offered on CL, eBay or elsewhere with bad shocks and or bearings. How someone manages to do so on a washer that is < ten years old I don't know.
Post# 985206 , Reply# 8 &nbsp 3/4/2018 at 08:13

(1,622 days old)

by Launderess (Quiet Please, There´s a Lady on Stage) &nbsp
&nbsp
Well they would, wouldn't they?



Even the shocks on my Lavamat aren't a patch on the Miele.

But then the AEG like many other *modern* front loaders are largely designed to avoid spinning unbalanced/stressful loads. Endless attempts until things are juuuuust right and so forth.

OTOH my Miele will make attempts to get load balanced, but when timer says it "let's roll", then it will spin. Mind you these old Miele washers are near commercial quality and will take quite a lot of abuse, including spinning mild to moderately unbalanced loads.
Post# 985364 , Reply# 9 &nbsp 3/5/2018 at 05:30

(1,621 days old)

by askolover (South of Nash Vegas, TN) &nbsp
&nbsp


Post# 985776 , Reply# 17 &nbsp 3/8/2018 at 03:27

(1,618 days old)

by mrboilwash (Munich,Germany) &nbsp
&nbsp



So my W 435 WPS technically speaking only had friction dampers as well.
They look like those in reply #15
I had a hunch but wasn`t 100% sure.
I wonder if and for how long real hydraulic shocks would have outlasted those cheap € 16.- friction dampers.
Isn`t it a shame even Miele somewhat compromises quality these days ?
Post# 985780 , Reply# 18 &nbsp 3/8/2018 at 03:57

(1,618 days old)

by Launderess (Quiet Please, There´s a Lady on Stage) &nbsp
&nbsp
To Be Fair



Perhaps Miele has joined the thought of thinking with modern electronics/computer control of motor and drum movements, extra heavy duty shock absorbers are no longer required.

Vintage Miele washing machines would spin regardless of all but the most severely OOB loads, if washer was old enough IIRC sometimes even that wouldn't stop the thing from going into full extract.

Of course nearly all modern washers can control motor and drum movements until things are juuuust right. Even if this takes ages of distributing and or redistributing a load.

In summation rather than design to endure OOB loads, these machines avoid the situation much as possible.
Post# 985784 , Reply# 19 &nbsp 3/8/2018 at 04:50

(1,618 days old)

by foraloysius (Leeuwarden, Friesland, the Netherlands) &nbsp
&nbsp


---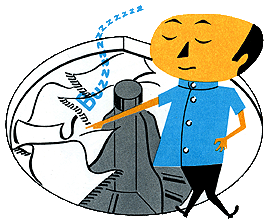 Comes to the Rescue!

The Discuss-o-Mat has stopped, buzzer is sounding!!!
If you would like to reply to this thread please log-in...