Thread Number: 77642 / Tag: Modern Automatic Washers
Who Let the Agitator Dogs Out?
[Down to Last]
Cool Washer Stuff on Amazon:
scroll >>> for more items
Post# 1016542 &nbsp 12/2/2018 at 14:33 by stricklybojack (San Diego, CA) &nbsp
&nbsp



.
My Kenmore TL Washer's dogs are barkin' up a storm and need to go for a walk!
So I pop the cap expecting a 7/16" bolt and instead see what you see in the photo...has someone snapped the bolt head off? If so what might you recommend as plan B? If not what is wrong with this picture?



Post# 1016543 , Reply# 1 &nbsp 12/2/2018 at 14:43 by appnut (TX) &nbsp
&nbsp


Post# 1016545 , Reply# 2 &nbsp 12/2/2018 at 14:57 by DADoES (TX, U.S. of A.) &nbsp
&nbsp

Checkrate/Likes

&nbsp

1

&nbsp &nbsp




 
Nothing wrong with it.  Use a square-drive ratchet and extension without a socket on it (or break-over wrench) of whatever is the appropriate size (I don't recall, 1/2"?) to unscrew the hold-down nut.  The threaded end of it screws onto the top of the agitator nut.

It has dispensers but it's not a catalyst, no drain/recirculate valve per the parts diagram.  The agitator is a triple-action.  There's a spring involved that allows the auger to lift upwards and press down on a super-large/heavy load.
Post# 1016546 , Reply# 3 &nbsp 12/2/2018 at 15:04 by Yogitunes (New Jersey) &nbsp
&nbsp

Checkrate/Likes

&nbsp

2

&nbsp &nbsp




what you got there is a TRIPLE action agitator…..its spring loaded, to move up and down, as well as in the normal spiral motion...

you have to use a really wide flat blade screwdriver, or if I am correct, a 3/4 drive socket extension to unscrew that plastic piece....which will give you access to the bolt underneath, which will have threads on both sides....sometimes it will release from the bolt, other times the bolt will come with it....


sometimes you can maneuver needle nose pliers down inside there against the corners to unscrew...little tricks we come across


there were several designs of this type.....


in any case, the dogs are the same through out all the designs, clean it up inside, and apply a bit of Vaseline to all the parts, then reassemble....


any issues, let us know....
Post# 1016550 , Reply# 4 &nbsp 12/2/2018 at 15:43 by stricklybojack (San Diego, CA) &nbsp
&nbsp


Post# 1017295 , Reply# 5 &nbsp 12/8/2018 at 01:49 by stricklybojack (San Diego, CA) &nbsp
&nbsp



.
I did it. The old ones looked like worn rotten teeth, nasty! I used a socket drive handle as a 12" drive. It was not that tight so it worked. watched a youtube video and popped off the retainer ring, swapped 'em out and i was done.
Then i loaded the washer up and delivered to someone whose pos recent vintage Whirlpool TL machine with the line of little lights below the center dial...you know the ones that always break?! Well it broke and they were fed up with HE electronics etc...and the dead washer on the curb watched as some old sckool cool wheeled past into the house.

---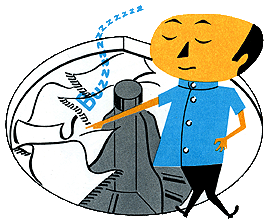 Comes to the Rescue!

The Discuss-o-Mat has stopped, buzzer is sounding!!!
If you would like to reply to this thread please log-in...