Cool Washer Stuff on Amazon:
scroll >>> for more items
Post# 500865 &nbsp 3/3/2011 at 08:27

(4,665 days old)

by peteski50 (New York) &nbsp
&nbsp



Being I was doing some scanning - I thought I would go through some designs concerning dishwasher interiors that were poorly designed to load dishes. I am very interested in getting other input!
We will start with the GE Triton from 1999 when they added a wash arm with the tower. Sort of a mishap after the potscrubber2 and makes more difficult loading with the tower as a addition!
Post# 501004 , Reply# 8 &nbsp 3/3/2011 at 16:49

(4,665 days old)

by Frigilux (The Minnesota Prairie) &nbsp
&nbsp


Post# 501065 , Reply# 9 &nbsp 3/3/2011 at 20:40

(4,664 days old)

by peteski50 (New York) &nbsp
&nbsp
Poor Designs!



Yes if this is the one you are speaking of it had a roller under the bottom rack. A family friend had that machine. They seemed to load all in it ok and it was quiet for the time. I heard they were poor cleaners but I couldnt personally tell because these people rinsed before loading. And you still had full use of the racks without any towers!

Post# 504482 , Reply# 13 &nbsp 3/16/2011 at 09:21

(4,652 days old)

by verizonbear (Glen Burnie ) &nbsp
&nbsp
the whirlpool racking



I have the whirlpool design in my apt, it does hold less dishes and the lower rack is comprimised on space for big items, however it does an excellent job in cleaning over all!! Ikea sells this model under thier brand name too, if I where to by a "buget level" model it would be the one of these whirlpool models, I would wrap it with insulaton though it is a little on the loud side
Post# 504726 , Reply# 15 &nbsp 3/17/2011 at 07:51

(4,651 days old)

by combo52 (50 Year Repair Tech Beltsville,Md) &nbsp
&nbsp
WORST DESIGN EVER



The Tappan Dual Drench dishwashers, these had just as restricted a loading system as the Frigidare spray tube machines but couldn't clean even a clean dish. I had a never used one of these about 25 years ago and hooked it up in my shop, after running about three loads of lightly soiled dishes through it I scraped it. I swear every piece of food was still in the machine and if not in the same place it was moved some where else. But with no filter what so ever and only one wash and one rinse it was just lame beyond belief.

I do now wish I had saved it as it would have been an interesting machine for the collection but I could never imagine using it as every dish would have to be completely clean of every particle to even expect it to produce a clean dish.
Post# 504854 , Reply# 16 &nbsp 3/17/2011 at 19:58

(4,651 days old)

by appnut (TX) &nbsp
&nbsp



And John, the friends who posted the European dishwasher reviwe from the early 1960s Which magazine, that same Tappan yielded like second best in cleaning performance. I even commented about that in the thread. I think the article ended with something to the effect, none of them were all that great and compared to what was being sold in America, they had yet to see a good dishwasher lol.
---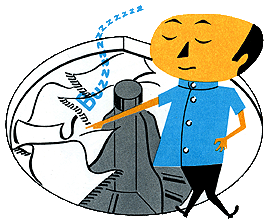 Comes to the Rescue!

The Discuss-o-Mat has stopped, buzzer is sounding!!!
If you would like to reply to this thread please log-in...