Thread Number: 37285
A "Speed Queen" report from the Metropolitan Opera Wardrobe Dept.
[Down to Last]
Cool Washer Stuff on Amazon:
scroll >>> for more items
Post# 554461 &nbsp 11/6/2011 at 07:14

(4,417 days old)

by Kenmore71 (Minneapolis, MN) &nbsp
&nbsp

Checkrate/Likes

&nbsp

&nbsp

&nbsp &nbsp




I had the opportunity to spend a few days in New York city last week "pheasant hunting" as I like to tell my friends. One of the main purposes of the trip was to see 3 operas at the Met. On Thursday afternoon I was able to get a ticket for one of the backstage tours.

When we were touring the Wardrobe Dept. I noticed a room off to the side that had 2 top loading washers and 2 electric dryers. Well, I'll be darned, they were late-model Speed Queens! I would have taken a picture but photography was strictly forbidden on the tour. You'll have to take my word for it.

I was amused that on the lid of one of the machines was a sign that said: "DO NOT DYE IN THIS MACHINE". That would lead me to believe that it WAS OK to dye in the other one. After a few seconds it occurred to me that fabric dyeing is probably a regular occurence in a large opera company's wardrobe department. When is the last time that anyone here did old-fashioned fabric dyeing in a top-loading automatic?

So, just case you were wondering what kind of washing machine Leparello uses to wash Don Giovanni's sheets...it's a SPEED QUEEN.
---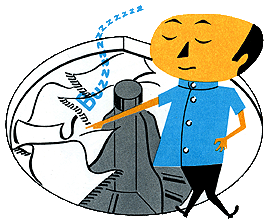 Comes to the Rescue!

The Discuss-o-Mat has stopped, buzzer is sounding!!!
If you would like to reply to this thread please log-in...