Thread Number: 37366
Miele Distinction 3000 problems....
[Down to Last]
Cool Washer Stuff on Amazon:
scroll >>> for more items
Post# 555451 &nbsp 11/9/2011 at 17:56

(4,413 days old)

by Pedro (London) &nbsp
&nbsp

Hi all, i'm enquiring for some advice on my 5 year old Miele Distinction 3000 washing machine. I've never had any problems with it but over the last few weeks i've noticed the fabric conditioner compartment isn't draining left-over water properly, i thought this may be due to a clog so thoroughly cleaned the drawer out, taking it completely to bits and scrubbing everything, even the syphon tube. However, this has made no difference. This wouldn't be a major problem but once I've put conditioner in for the cycle and close the drawer, i have to be VERY careful as the motion of the drawer closing with all the liquid in can cause the syphon to, well, syphon and i lose the conditioner into the wash load before the machine is even switched on.

I've also noticed that the 'finger holes' you use to pull open the conditioner flap and that let the water into the compartment during the final rinse are surrounded by fabric conditioner after the cycle has finished so it seems the compartment is overflowing slightly before the syphon kicks in.

Also...

Today i did a load of bedding, i did the usual routine of carefully loading the conditioner and ensuring the drawer was closed very carefully but upon unloading the bedding i noticed it smelt rather...well, unpleasant (worse than it did when it went in, so i know it's not me ;) ) This forced me to run it through another rinse with some more conditioner, when it came out again it smelt slightly better but nothing like it normally does.

I pride myself on knowing the ins and outs of my washer but this has got me stumped. Any help you guys can offer?

Pedz :)


Post# 555590 , Reply# 1 &nbsp 11/10/2011 at 05:46

(4,413 days old)

by dyson2drums (United Kingdom) &nbsp
&nbsp



Hey

I'm sorry can't help you with the detergent drawer problem as you've cleaned the detergent drawer, I usually use cocktail sticks to clean the holes to ensure its thoroughly clean.

My mum once bought comfort (blue skies) 5 litre bottle and that was when we got the LG steam so it couldn't have been anything to do with our clothes or the washing machine. Every wash smelt stale/unpleasant, worse than it went in, even new clothes had the same problem. I changed the conditioner to Lenor which we had stocked in the cupoboard and voila no stale/unpleasant smells so we stopped using that particular comfort and had to get rid of it. We have boght comfort since and have had no problems.

I would suggest try changing conditioner, maybe that could be the problem as it was in our case.

All the best
Post# 555596 , Reply# 2 &nbsp 11/10/2011 at 06:29

(4,413 days old)

by chestermikeuk (Rainhill *Home of the RailwayTrials* Merseyside,UK) &nbsp
&nbsp
Check....


Post# 555640 , Reply# 4 &nbsp 11/10/2011 at 09:54

(4,413 days old)

by dyson2drums (United Kingdom) &nbsp
&nbsp


Post# 556103 , Reply# 5 &nbsp 11/12/2011 at 11:58

(4,410 days old)

by AquaCycle (West Yorkshire, UK) &nbsp
&nbsp



I've had this problem quite recently.

There is a removable plastic piece that sits over the syphon tube. If you take that out and look inside, mine was full of congealed fabric conditioner and was blocking up. Try washing the whole drawer in a bowl of hot soapy water and cleaning any narrow areas with a cocktail stick or a cotton bud and see how you get on.

As for the smell, I'd certainly recommend cleaning out behind the detergent dispenser, draining the pump and cleaning that out and also running the machine empty on a boil wash, maybe with some of that Oust descaler for washing machines in.

Be sure to let us know how you get on :)
---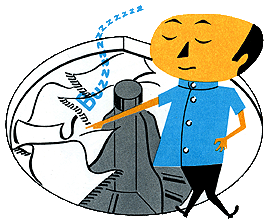 Comes to the Rescue!

The Discuss-o-Mat has stopped, buzzer is sounding!!!
If you would like to reply to this thread please log-in...