I just though I'd take a moment to say thanks to those folks that stopped by this thread and left thoughtful or encouraging comments. It's always nice to feel that what you're doing is useful or helpful in some way, and based on the number of views it seems that there was a fair amount of interest in this subject(either that or a couple of guys checked in very frequently), but it was still very nice to find the occasional comment left by the handful of folks that took the time to leave them. So Ralph, John, Ken, Diomede, Robert, Jon, Phil and Rick, thank you very much. Your comments were appreciated.
And Phil, yes I do know what cleco's are. In fact any aircraft mechanic worth his salt will likely have at least a dozen or so in his toolbox. Sheet metal mechanics will frequently have hundreds of them, both the spring type and the threaded type.
Now on the off chance that someone else might want to do this as well, I have some additional information to share. The orange arrows in the photo below are pointing to the rivet sets. The longer rivet set fitted into the upper fixed portion of the squeezer head is part number CA2004-9 1/8 R.D. x 3/8 LG. It's described in the paperwork that came with it as an "oval head squeezer die." The term "oval" is important because there are two common head types on these tubular rivets. The ones found in this timer were all of the oval head type. The other type is called "truss head" and it has a significantly larger head diameter, so they can't be used.
The other rivet set fitted to the movable ram is part number CA2005-8 1/8 R.D. x 1/4 LG and it's described as a "tubular rivet squeezer die." Both of the rivet sets had to be ground down to reduce their outside diameters enough to make them fit into the tight spaces they needed to be used in.
The rivets all have the same basic part number that's then modified with a dash number. They are:
MS20450-C8-B8
MS20450-C8-B9
MS20450-C8-B10
MS20450-C8-B11
MS20450-C8-B12
MS20450-C8-B13
When you're using this type of rivet squeezer you'll want the handles to be just about fully closed when the rivet is fully squeezed. In order to accomplish this the ram is threaded onto a movable shaft which allows the user to thread it in or thread it out depending on the need. The ram can be a little tight making it hard to rotate, so a hole is provided(see the blue arrow) so that an object like a small Philips screw driver blade can be inserted for extra leverage. I was just on the Hanson Rivet web site and didn't see this squeezer listed anywhere, but they have them on display at the walk in sales counter so they're definitely there if you can't find one locally.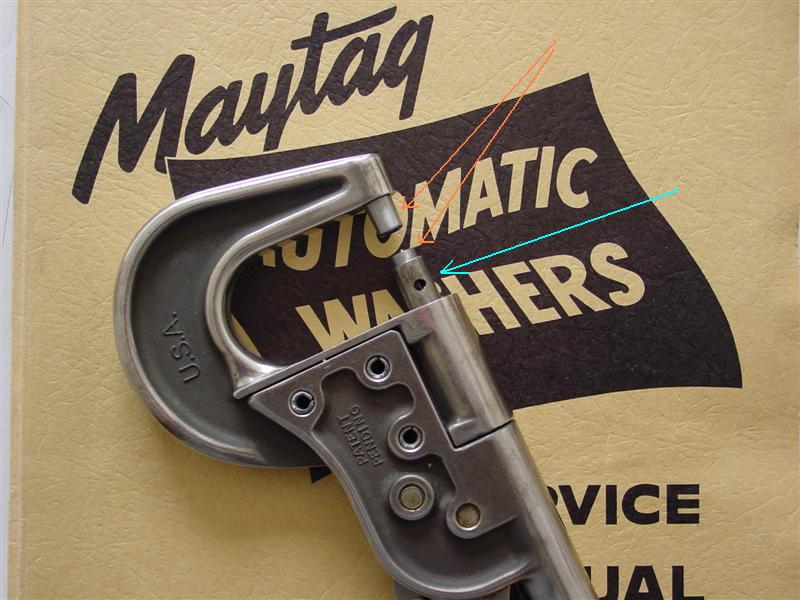 This post was last edited 10/29/2013 at 16:33