Thread Number: 81597 / Tag: Modern Dishwashers
Bobload Certification
[Down to Last]
Cool Washer Stuff on Amazon:
scroll >>> for more items
Post# 1056173 &nbsp 1/1/2020 at 16:49

(267 days old)

by jakeseacrest (Massachusetts) &nbsp
&nbsp



So it occurred to me tonight while loading my 2013 Amana that I've never gotten Bob's seal of approval. Tonight's dinner was prime rib, sauteed spinach and garlic and baked potatoes. Heavy Wash with Hi Temp and a Finish Powerball Max. No pre rinsing was involved.


Post# 1056187 , Reply# 2 &nbsp 1/1/2020 at 18:31

(267 days old)

by jakeseacrest (Massachusetts) &nbsp
&nbsp


Post# 1056193 , Reply# 3 &nbsp 1/1/2020 at 19:00

(267 days old)

by jakeseacrest (Massachusetts) &nbsp
&nbsp



I didn't have high hopes because the mess was broiled on pretty well but a decent job though. I was able to sponge the rest of the mess off and put it back in for the dry cycle. Perhaps Finish Quantum or Cascade Platinum would have done a better job. The Finish Max was on sale
Post# 1056331 , Reply# 5 &nbsp 1/2/2020 at 22:11

(266 days old)

by murando531 (Huntsville, AL) &nbsp
&nbsp

Checkrate/Likes

&nbsp

8

&nbsp &nbsp




Odd. Those eco-nazi Cascade Platinum pods have worked beautifully in every dishwasher I own, between the PowerClean and the "waterless" high-efficiency Whirlpool and KitchenAid as well. They've yet to leave anything less than a sparkling machine interior and spotless dishes, and I've never had to actually clean the filters at all because aside from a few stray specks, they keep remarkably clean.

And I actually have a Tupperware container full of Cascade Professional "fryer boil out" because I wanted to see what all the fuss was about, but to be perfectly honest, with adding a teaspoon or a few tablespoons along with the normal detergent pac, I don't notice any improvement either way.

Again, in the spirit of the years-long debate on the subject, something being "new" or "modern" does not automatically make it worse or ineffective. I used to be anti-HE years ago, and now you couldn't pry these new dishwashers or my 2017 WP front loader away from me.

In response to OP and the baking pan, higher grade detergent probably would have made a bit of difference, but from experience with the lower wash arm's spray patterns like your machine has, the biggest difference would have been if it was loaded more along the outsides, angled down. The only jet that would have hit that pan would have been the slotted fan-jet towards the center of the arm; none of the outer jets that have a lot more pressure would have sprayed into it directly.
Post# 1056348 , Reply# 7 &nbsp 1/3/2020 at 03:28

(266 days old)

by DADoES (TX, U.S. of A.) &nbsp
&nbsp



 
Boil Out works nicely in my DD on everything except dried egg residue.  Does a bang-up job on tea and tomato sauce stains.  1 tsp prewash, 3 tsp main wash.

Cascade Platinum pacs cause so much foaming that the arm rotation and spray force is impaired, and it sometimes adds more water to compensate for the reduced load on the pump from too much water turned to suds.  There's some foaming still in the last rinse although it dissipates by end of the dry period.  The enzymes handle egg but don't make the slightest dent on tea stains.
Post# 1056401 , Reply# 8 &nbsp 1/3/2020 at 15:10

(265 days old)

by murando531 (Huntsville, AL) &nbsp
&nbsp

Checkrate/Likes

&nbsp

2

&nbsp &nbsp




Agreed, MattL. So far I've only used it frequently in the PowerClean because the main wash is 14 minutes, and even then I put less than a tablespoon in with the main detergent cup. The only cycle I tried it on in the new machines was on the 1-Hour wash with a similar main wash time. I wouldn't chance it even with a teaspoon or so with the Normal cycle on those because of the longer main wash duration. But either way in either machine, it hasn't changed the performance and results in anyway, positive or negative.

I will say this: Cascade's Platinum and Finish's Quantum formulas are not going to restore a machine that has heavy scale buildup or gunked up filters. The PowerClean that I own was pretty gnarly in that regard when I first adopted it before the total teardown and restore. But since I've owned it, it's had a healthy diet of never-prerinsed dishes and high quality detergent like Quantum, Platinum, or Complete, and always a filled dispenser of rinse-aid, and never once has it developed any residue or buildup on the components or in the filter. To me it's kinda like cleaning a shower; if you start with a clean shower and squeegee it daily and spritz Tilex each day, it stays much cleaner, but doing that to an already dirty shower isn't going to accomplish much.
---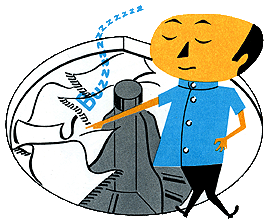 Comes to the Rescue!

The Discuss-o-Mat has stopped, buzzer is sounding!!!
If you would like to reply to this thread please log-in...