Thread Number: 93986 / Tag: Modern Automatic Washers
Friends new washer and detergen
[Down to Last]
Cool Washer Stuff on Amazon:
scroll >>> for more items
Post# 1186564 &nbsp 8/1/2023 at 23:46 by petek (Ontari ari ari O ) &nbsp
&nbsp

Checkrate/Likes

&nbsp

4

&nbsp &nbsp




A close friend had his WP washer break down last month and I believe it was about 20 odd years old. Being single he only used it perhaps once a week and he always used to lowest cost Arm & Hammer, Sun, etc type liquid detergents he could find at discount stores like Giant Tiger. You know the 1 gallon bottles for $2.99 supposedly good for 90 loads. He's very cheap, so cheap in fact, that he will not have any lights on in his house except for the tv itself after dark, and or a reading light if he's reading in bed. Anyways, his brother, who's not at all like him also had his washer break down and bought one of those new WP's with the removable agitator post. My friend was hesitant about the cost so I went to look at one at a local appliance store and like the fact the agitator could be removed leaving basically a washplate. I told him it should work ok and that by taking the agitator out he could probaby wash a duvet. I think that sold him and he had one delivered last week. When asked how he liked it he said it works really well and he had actually taken the agitator out and washed a duvet. He remarked how much cleaner his clothes looked and I asked what detergent he had used He told me they had given him a big bottle of Tide something or other to which I replied well no wonder you're finally getting clean clothes, stop buying that bottle full of water crap.. But knowing him, when the Tide is gone it'll be back the the Arm & Hammer or ERA. LOL. As well I noticed those recent ads on tv where the guy is stating how many detergents are all water, de-emphasizing the fact that the better detergents contain little to none and so is touting those I think they're called 7th Generation washer sheets that dissolve in the wash. I've never used them but my gut tells me there isn't any way that they are going to topple Tide or Persil in the clothes washing race.
---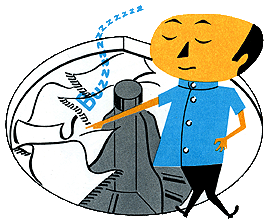 Comes to the Rescue!

The Discuss-o-Mat has stopped, buzzer is sounding!!!
If you would like to reply to this thread please log-in...